Main products
P4DETECT
Influenza A&B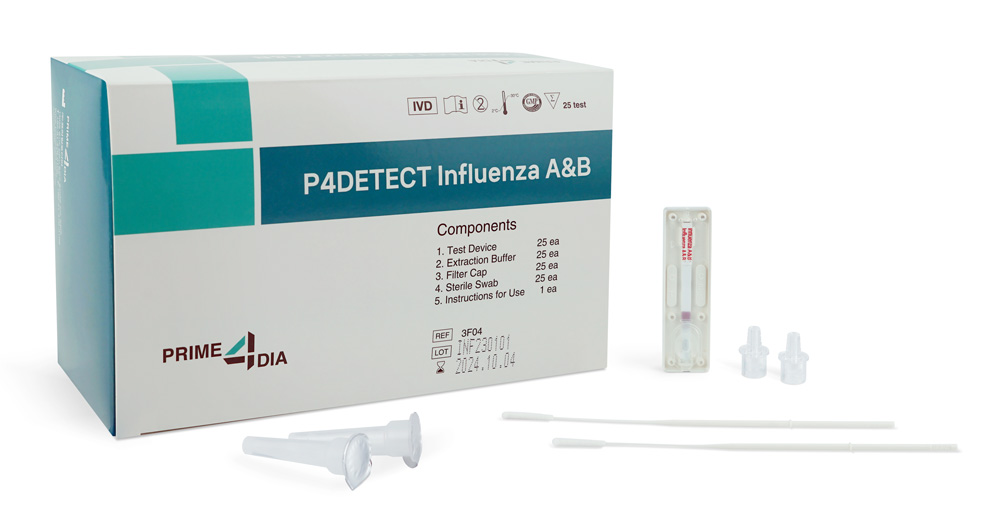 Influenza A&B
Influenza A and B viruses are highly contagious and cause acute respiratory infections wherein live viruses are transmitted via the respiratory tract through coughing and sneezing. Therefore, Rapid point-of-care test(POCT) is necessary for prevention of local transmission. The P4DETECT Influenza A&B is quick and easy POCT for the qualitative detection of Influenza A and B viruses.
Specification
Purpose
Immunochromatography based one-step in vitro diagnostic test
Instruments
No instruments needed
Specimens

Nasopharyngeal swab

Sensitivity

Influenza A : 99.28%

Influenza B : 87.01%

Specificity
100%
Reading Time
5 - 8min
Procedure
Step 1

Collecting Specimen

Insert the disposable swab into the nostril and gently insert it along the septum as deep as possible into the back of the nasopharynx. Rotate the swab gently on the surface near the back of the nasopharynx 5 to 10 times and pull it out of the nostril carefully.

Step 2

Extracting Specimen

Put the swab into the extraction tube containing the extraction solution. Rotate the swab sufficiently so that the sample dissolves will in the extraction solution. Take the swab out while pushing and raising it along the wall of the tube to squeeze out the sample extract.

Step 3

Test

Take the test device out of the pouch and place it on a clean, flat surface. Drop four drops(120µL) of the sample extract contained in the extraction tube onto the sample well of the test device. Read the results within 5~8 minutes.
Interpretation
Positive

Negative

Invalid
Ordering
Information
| Cat No. | Description | Type |
| --- | --- | --- |
| 3F04 | Influenza A&B | Device (25T/Kit) |