covid-19
P4DETECT
COVID-19 Ag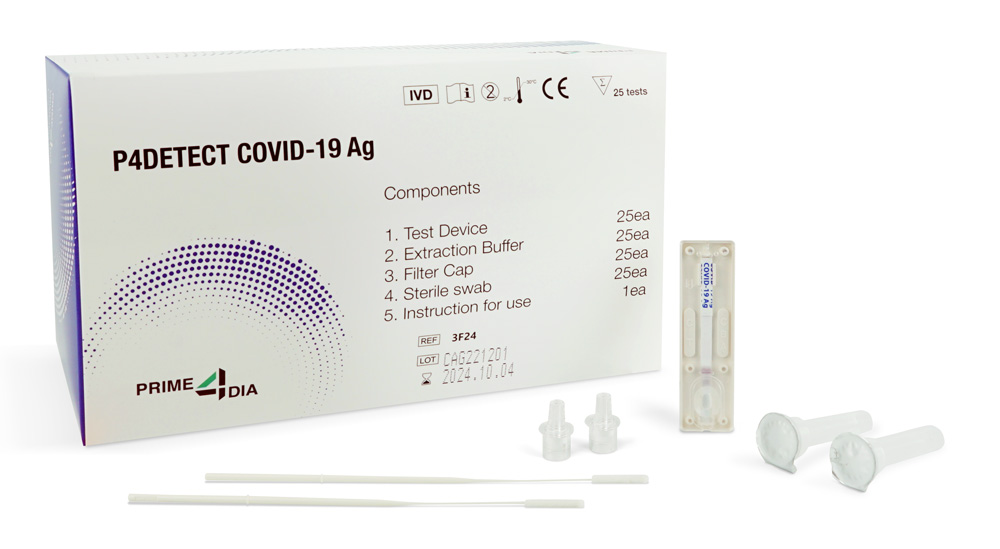 COVID-19 Ag
COVID-19 is a strong infectious disease caused by SARS-CoV-2, a new strain of coronavirus. Therefore, Rapid point-of-care test(POCT) is necessary for prevention of local transmission. The P4DETECT COVID-19 is quick and easy POCT for the qualitative detection of COVID-19 infection.
Specification
Purpose
Immunochromatography based onestep in vitro diagnostic test
Instruments
No instruments needed
Specimens

Nasopharyngeal swab

Nasal swab

Sensitivity
96.67%
Specificity
100%
Reading Time
15 - 20min
Procedure
Step 1

Collecting Specimen

Remove the cap of a collection tubes containing extraction buffer. Immerse the swab tip into extraction buffer, then swirl the swab 5~10 times while pressing the head against the bottom and side of the collection tube.

Step 2

Extracting Specimen

Withdraw the swab while pinching and squeezing and remove it. Dispose it with biosafety. Close the test tube with a filter cap securely.

Step 3

Test

Place the test device on a flat surface. Invert the test tube and gently squeeze it to draw 4 drops into a sample well on the device.Interpret the result between 15-20 minutes.
Interpretation
Positive

Negative

Invalid
Ordering
Information
| Cat No. | Description | Type |
| --- | --- | --- |
| 3F24 | COVID-19 Ag | Device (25T/Kit) |
| 3F24A | COVID-19 Ag | Device (1T/Kit) |